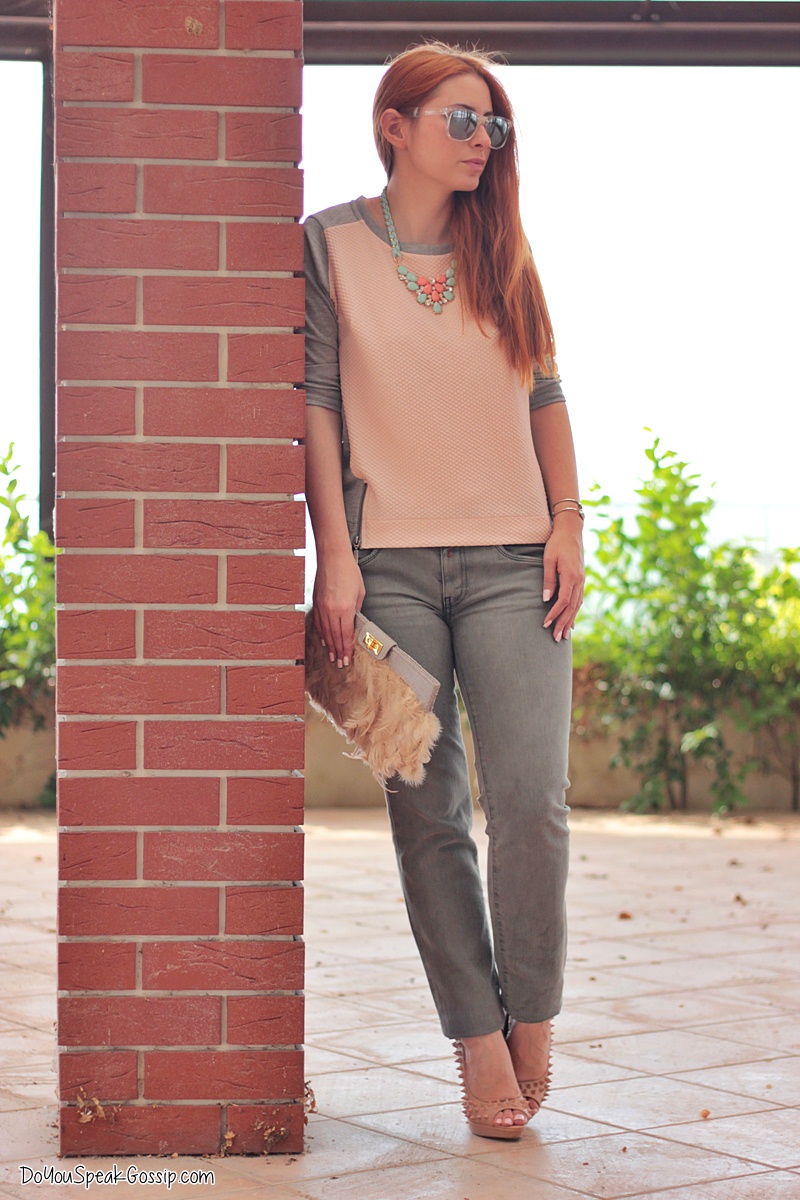 I've been looking for this top for a long time, somewhere around fall, but I was told it was sold out. So I didn't imagine I would run into it a few months later when I was buying a pair of skinny jeans, but I was happy that I found it on sale, so I grabbed it. It waited patiently in my closet for months for the cold weather to go away, till I could finally wear it. This is the first time I wore it and it's exactly the way I imagined it to be. In a simple, yet chic outfit, with a bit of extravagant accessories to make the outfit more interesting. I really loved this look!
Αυτήν την μπλούζα την έψαχνα αρκετό καιρό κάπου στις αρχές φθινοπώρου, αλλά μου είπαν ότι δεν θα ξαναφέρουν stock. Έτσι δεν φανταζόμουν ότι λίγους μήνες αργότερα θα πέσω πάνω της, όσο έψαχνα να αγοράσω ένα τζιν, αλλά ήμουν τόσο χαρούμενη που τη βρήκα (και μάλιστα με έκπτωση) που την αγόρασα αμέσως. Περίμενε υπομονετικά μέσα στην ντουλάπα μου για μήνες μέχρι ο χειμώνας να δώσει τη θέση του στην Άνοιξη και να μπορέσω επιτέλους να τη φορέσω. Αυτή είναι η πρώτη φορά που το έκανα και είναι ακριβώς όπως σκέφτηκα ότι θέλω να τη φορέσω την πρώτη φορά. Σε ένα πολύ απλό, αλλά chic outfit, με μερικά ιδιαίτερα αξεσουάρ που έκαναν το σύνολο πιο ενδιαφέρον. Πραγματικά το αγάπησα αυτό το look.
Photos by Maria of Style Bows
LOOK OF THE DAY:
Top
:
Stradivarius
Jeans
:
Replay
Feather
clutch
:
ASOS
Heels
:
Blink
c/o
spartoo.gr
Sunglasses
:
H&M
Necklace
: c/o
Regalis Collection
Για τους Έλληνες κατοίκους, υπενθυμίζω ότι τρέχει ακόμα ο διαγωνισμός στο blog μου με δώρο ένα υπέροχο κολιέ. Κάντε κλικ εδώ για να πάρετε μέρος! Λήγει αύριο, 20/5, τα μεσάνυχτα.
♥ BLOGLOVIN' / FACEBOOK / TWITTER / INSTAGRAM ♥
♥ SHOP MY CLOSET ♥